Creating Unforgettable Outdoor Living Spaces
With trees gently swaying beneath blue skies above and a delicate breeze on your skin as you rock back in forth in a
hammock, you might just believe you've found paradise. At Crawford Creek Communities, that's what we believe every
backyard should be for the homeowners who live there… their own interpretation of paradise. With more and more
families seeking a daily escape to the Great Outdoors just beyond their backdoor, we endeavor to answer that call with
imaginative exterior gathering spaces you can make your own.
Define Your Space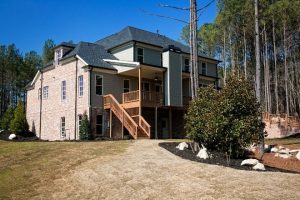 According to Fixr.com's 2020 Single-Family Home Trends Report, 41%
of respondents indicated that their version of a backyard paradise
would include an outdoor kitchen. Coming in a distant second at 22%
was a patio, followed by a tie between 14% of respondents suggesting
either decks or outdoor living rooms, and 8% designating front
porches as their ideal outdoor hangout. The report also indicated that
leading the charge for an investment in outdoor living spaces are
married couples with children at 65%. Nature lovers in our own right,
Crawford Creek Communities is pleased to make outdoor living spaces
a focus in everything from our townhomes to our single-family homes.
Rocking chair front porches that frame the façade of your new single-
family home and covered patios that set the tone for your backyard are juxtaposed against spacious decks off our
townhomes that provide views of the Atlanta skyline. No matter the setting, we can help you define your outdoor living
space.
Set the Tone Through Decor
But it's about more than just the kind of space. To create a true sense of space,
décor can help you define the kind of experience you and your guests can enjoy.
Realtor.com reports that two of the most searched terms in Outdoor Décor for 2020
included:
 Outdoor Tile – As the trend in extending living spaces outdoors grows, so
does the desire to extend décor beyond the four walls of your home. Tile can
add an undeniable appeal where a concrete slab may have otherwise failed.
Google reports that online searches for outdoor tile skyrocketed by 174% in
recent months.
 Backyard Bars – Have your guests sidle up to the bar and – while you hold
court – they can enjoy libations and light snacks before it's time to fire up the grill. This concept is rapidly gaining
steam, as indicated by the recent 192% jump in searches.
Get the Lay of the Land Through Landscaping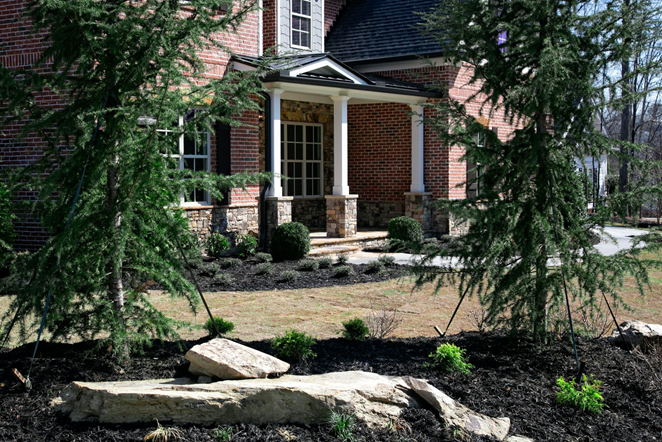 Real Simple Magazine suggests that you shouldn't limit your décor to furniture and finishes alone. Much like the English
Gardens of old, landscaping continues to play a key role in your outdoor experience. The publication looked to the
National Association of Landscape Professionals (NALP) to determine the up-and-coming trends in landscaping. Included
among them are:
 Contemporary, Sleek and Minimalistic Landscape Designs – NALP suggests you keep it simple and functional
 Makes Steps Towards Sustainability – From creating edible gardens to planting only native plants to minimize
your impact on the local ecosystem, these represent great ways to personalize your outdoor space
 Smart Irrigation – To make the upkeep of any landscaping you've worked so hard to create as simple as
possible, NALP indicates that an irrigation system – including smart sprinklers – is a wise investment.
With five full-time landscape designers on our team, Crawford Creek Communities endeavors to give you a great head
start on your new home's landscaping.
At Crawford Creek Communities, "home sweet home" means so much more than the life that happens inside your new
house. It's also about the celebrations that will take place, gatherings around the grill and everyday moments that will
be shared in your backyard. We genuinely want you to love your home… inside and out!
Sources:
https://www.fixr.com/blog/2020/04/22/single-family-home-trends-report-2020/
https://www.realtor.com/advice/home-improvement/most-searched-outdoor-trends-of-2020-summer/
https://www.realsimple.com/home-organizing/gardening/outdoor/landscape-design-ideas-trends
*We'll need a collection of awesome outdoor living spaces created by CCC to feature with this blog!! I swiped the ones featured here from the
Gallery on the website.
KB 9/1/2020